News and Events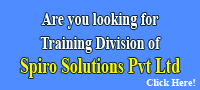 About Us >> Company
Spiro Technologies is an ISO 9001:2008 Certified, IT Solutions Company, offering Custom Software application development and web site development From India services to clients in the Singapore, Malaysia, U.S., Canada, and Europe since 2006. As a dedicated Custom Software development solutions provider, we try hard to deliver superior quality and cost effective Web Design development solutions to our clients by following customized processes to deliver on-time and quality outputs. Spiro Technologies is promoted by Spiro Solutions Pvt. Ltd. Which is a leading monopoly technical organization in South India exclusively for corporate, Project training, working with the sole mission of bringing the corporate and education worlds together

Spiro Technologies has over years of hands-on experience in software and application software development solutions that consist of - Wireless Mobile Applications, Sales Management Software, Data Management Solutions, Human Resource Solutions, and Offshore stuffing for sheer high-tech yet cost-effective outputs.

Our high-end dedicated Custom Software development web design center with a versatile skill pool specializing in technologies like .net Development and Ajax Development is fully equipped to expand for various projects as per the client's requirement.

Over the years, we at Spiro Technologies have successfully completed a wide range of projects for different industries and business sectors. The projects differ in their scope and duration. For all of the projects, we do our best to remain cost-competitive vendors, leveraging our technical expertise to provide outstanding services and deliver high quality solutions in time.