News and Events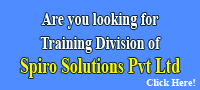 Java/J2ee Development :
Spiro Java developers possess wide experience in Java application development and in Java development for such development platforms as Java, J2EE, J2ME, J2SE and others, to create business solutions which satisfy our customers' needs completely. We have solid experience in developing applications based on Java platform, applying up-to-date technologies to current project needs.
.Net :
Spiro is working in Microsoft .NET technology since 2005. We have extensive experience in .NET Development Technologies like ASP.net, VB.net and C#. With our early adaption and extensive experience. Our experienced asp.net development team uses technologies like VB.net, C#, XML, WinForms, web services and SQL Server database to create powerful applications that are as per your requirements and budget.
PHP, My-SQL WEB DEVELOPMENT :
PHP language is considered one of the most popular & most widely accepted open source web development technology. PHP development is gaining ground in the technology market. PHP Web development is considered to offer the most efficient solution when in combination with LINUX, MySQL and Apache. This combination is better known as the LAMP technologies. The open source based products and tools are regularly studied, used, implemented and deployed by Spiro. Spiro has developed solutions like Community sites, CMS, e-Commerce applications and custom web applications based on PHP and mySQL.
Flex Application Development:
Flex Framework is used for Rich Internet application development (RIA development) that can consistently run on different browsers and operating systems. Flex aides in enhancing user experience by providing eye catchy design and excellent interactivity. Flex creates a SWF file that is played in flash runtime. Flash Player and Adobe Air are used for deploying Flex applications on the web and desktop respectively.
Spiro delivers pleasing Rich Internet Applications using Flex at a cost effective rate. Our highly experienced and talented Flex application development teams have delivered unique and latest Flex applications to clients. Our solid flex development expertise and creativity help us to deliver innovative and path breaking applications that meet client requirements.
Spiro has always been a path breaker and was among the first to use Flex technology for delivering innovative business solutions to clients. Our Flex applications always have rich user interface along with great user interactivity that helps in maximizing profits. Our Flex applications have a great deal of flexibility and can be easily customized as per the client's need.
Database design and development:
Spiro expertise covers database design, database development and database management, our services include database programming for MySQL, Oracle, MS Access, PostgreSQL and others. With the power of different programming languages as MS Visual Studio .NET, Visual Basic, MS .NET Framework SDK Spiro's experienced database developers create high professional solutions for customers.
| | |
| --- | --- |
| Databases: | Services We Offer: |
| Microsoft Access | Database design and programming |
| Oracle | Database management |
| MySQL | Database migration and administration |
| PostgreSQL | Database support and maintenance |
| IBM UDB | Analysis Service (SSAS, OLAP) |
| IBM DB2 | Integration Service (SSIS, ETL) |
| IBM Informix | Notification Service (Service Broker, e-mail sending with SQL Server) |
| MS SQL Server | Reporting Service (SSRS) |
| Sybase | Replication |
Offshore Development Center:
Spiro offers the services of the Offshore Development Centre (ODC). It is a virtual community of software engineers who complement your in-house staff remotely and act as required by your project requirements and business needs. ODC can perform a variety of services related to software development life cycle.
You gain benefits:

We offer:

Reduced service costs as compared with onsite development companies

Man-hour efforts estimation

Free to negotiate and choose appropriate skills to meet your project requirements

Focus on your core business needs and project goals

Full control over the project run, capability to manage it dynamically

Transparent development workflow
Regular task reporting

Seamless communication with any team member

Flexibility to synchronize working shifts with business hours in your company
Modern communication technologies to regularly keep in touch

Back transferred intellectual capital, tangible results

Regular deliverables, high-quality services

Privacy and confidentiality

Protection of intellectual property rights and business relationship, if necessary. A Non-Disclosure Agreement (NDA) is signed.

Long-term collaboration due to your:
Additional project-related requirements, including product updates, enhancements,
new versions Need for resources for different projects

Scalable or downsized ODC's infrastructure depending on the project requirements