News and Events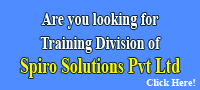 Development Process :
Human resources are one of the most vital resources in any business organization and so does it count a great deal in software outsourcing. This is doubly true for a company providing offshore software development. Our well-knit team comprises of qualified and goal-oriented professionals. Spiro assures an in-depth understanding of customer's requirements and challenges and suggesting a creative approach by providing innovative solutions owing to the Staff qualification and experience.

Our developers work closely with your project staff using today's most productive technologies, including design tools, as well as the more traditional tools in common usage.

We differentiate our software outsourcing model from other 'software factories' on the basis of close interaction with the client. While other software companies have little coupling with clients because specifications are 'thrown over the wall', our offshore software development model is interactive and is based on a global team concept where few team members or client IT staff works with end customer to define requirements, review prototypes and manage scope changes. Spiro's offshore software development team is responsible for execution of project at low cost keeping up the quality standards.

In projects where IT Service provider is outsourcing custom software development to Spiro, IT Service provider works as a bridge between Spiro and customer.
Quality :
Quality is an ever-expanding goal - the better you are, the better you need to be and one needs to live up to getting better. Your best bet to assure the performance of any software without sacrificing on deadline and resource utilization would be software quality assurance. In any case, Design and development usually get a lot of attention while putting software together. In an event to rush to market, what usually gets sacrificed is quality.

Success is a journey and not a destination. Likewise, improvement of quality process is infinite, and marked only by milestones, never by completion! At Spiro - offshore software outsourcing company, We realize the significance of quality and in order to fulfil our goal of self-evident quality, we constantly improve our deliverables to match the increasing expectations of our customers. Standardization is the key to overall growth and thus we periodically review and enhance our SOP (Standard Operation Procedures) to move towards standardization.

We continuously upgrade ourselves by conducting periodic quality training sessions of coding standards, best coding practice, documentation standards and quality assurance to enhance the performance of all employees.